Tara Flint is the only child of Garret and Sarah Flint. Tara has had a wrench in one hand and a blaster in the other since she came on board the Zera at age eight, and Hank has been trying to keep up with her ever since. Smuggled on board under Central 's noses by Jhonis and her father, Jhonis's engineer at the time, Tara grew up with Hank and the Zera's engine as her two best friends. Quick to temper and quick to forgive, Tara believes in giving people chances before judgment, but watch out for her hard right punch if you try to take her for an easy target.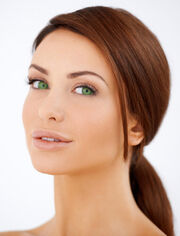 Appears in:
Ghost In The Machine
Whispers From Exile
Tracing The Stars

Race/Origin: Corwint
Gender: Female 
Occupation: Engineer, Central Agent 
Age: 26 
Height: 5' 6" 
Eye Color: Bright Green 
Hair Color: Brunette 
Quote: "Fine. It had better be one hell of an explanation, or I'm not responsible for what my temper and my blowtorch may do." 
Soundtrack:
Christina Aguilera - I Am